I first came across Goodnight Mister Tom when I was in primary school and we studied the novel by Michelle Magorian.
The delightful and poignant story has stuck with me ever since and so I was delighted to learn a stage version of Goodnight Mister Tom was coming to Aylesbury Waterside Theatre.
Upon taking my seat in the theatre on opening night yesterday (Tue) I was greeted by what on first impressions looks like a very simplistic set.
The location of Dorset is simply depicted with an illustration on a backdrop. There is a raised wooden platform in the centre of the stage, and a few props, such as the frame of a door, a table and a chair.
I have seen better sets in amateur dramatic performances, and so I was a little apprehensive about what was to follow.
However, I had no reason to feel apprehensive because what followed was two hours of pure delight.
The acting in the show was far from amateur dramatic and was closer to West End perfection.
Bucks boy Alex Taylor-McDowall, who attends the Jackie Palmer Stage School in High Wycombe, played the role of William in this production. He was quite simply amazing and portrayed William's journey from a withdrawn nervous wreck to a confident bubbly child wonderfully. His facial expressions and body language really helped portray the pain poor little William goes through emotionally and physically. I am confident Alex will go on to be a big star.
Another stand-out performance was from William's fellow-evacuee and best friend Zach, played by 13-year-old Oliver Loades from Hertfordshire in this production.
Zach is a colourful, larger than life character with a theatrical background and is a stark contrast to William.
It is Zach's character that delivers most of the most laugh out loud moments in the show, of which there are many, which helps give a much needed comic relief in a show that tackles difficult and hard-hitting subjects.
Oliver was full of energy from start to finish and really helped bring the show to life. Just like Alex, I think Oliver is going to go on to achieve amazing things.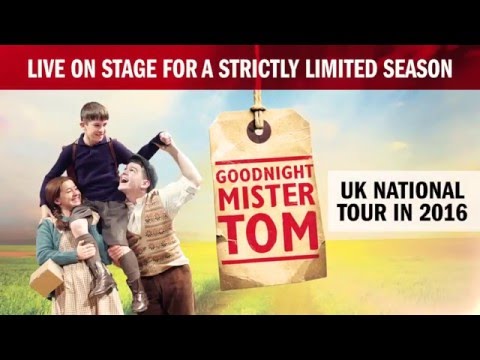 The title character is played by David Troughton, known for his Shakespearean roles on the British stage and for his many roles on British television, including Dr Bob Buzzard in A Very Peculiar Practice and Ricky Hansen in New Tricks.
David also plays Tony Archer in BBC Radio 4's The Archers, a role he took over in January 2014.
David makes the perfect Mister Tom and takes the audience on a powerful journey as he delivers a powerful and emotionally charged performance. He has a fantastic chemistry with the rest of the cast, especially little William, and some moment will make you say 'aww' out loud.
Another character he has great chemistry with is Sammy his dog, which is a puppet masterfully brought to life by puppeteer Elisa De Grey. Even though Elisa is visible on stage, you soon forget she is there focusing all your attention on Sammy, just as is the case in shows such as War Horse and The Lion King. As well as moving Sammy beautifully, Elisa also does all of Sammy's vocals, which were so good I actually thought it was a recording!
Sammy is not the only puppet to appear in the show, we also see a squirrel and birds, which also look amazing.
It is also worth giving Melle Stewart a mention, who plays two very contrasting characters in the show.
We first see her as the sweet, kind and gentle school teacher Annie Hartridge. However, Melle also takes on the role of William's mother Mrs Beech who is a million miles a way from that of Annie Hartridge.
The show changes pace and takes on a darker tone in Act II when William is forced to leave the life he has become to love in Dorset has return to his sick mother in London.
It is then that the set comes to life, as the wooden platform raises upright to reveal a cold, colourless and unloved London home and the brutal reality of William's home life is revealed.
The show tackles some extremely hard-hitting issues but they are handled in a sensitive way, making the show the perfect watch for young and old audience members alike.
You really do go on a roller-coaster of emotions in Goodnight Mister Tom and there was not a dry eye in the house at the end of the show, or to be fair, throughout Act II.
Goodnight Mister Tom is a beautiful heart-warming show that will make you love those you are close to that little bit more.
I would wholeheartedly recommend Goodnight Mister Tom, but whatever you do, don't forget the tissues!
Goodnight Mister Tom is at Aylesbury Waterside Theatre until Saturday, April 16.
Tickets cost £14.40 to £31.40.
To book call the box office on 0844 871 7607 or visit www.atgtickets.com/aylesbury.