After delighting audiences for 80 years, there is no risk of Cole Porter's classic musical Anything Goes sinking anytime soon.
I was not familiar with the musical or any of its songs before I went to see it on opening night at the Wycombe Swan Theatre yesterday, so I was unsure of what to expect.
However, I left the theatre with a big smile on my face humming all of the show's excellent songs including Anything Goes, I Get a Kick Out of You and It's De-Lovely having had a very enjoyable evening.
Anything Goes was penned back in 1934 and first performed in 1935 and it is still going strong today thanks to its clever plot, bags full of humour, dazzling costumes, stunning set, catchy songs and extremely talented cast of 26.
When Billy Crocker (Matt Rawie) discovers that his heart's desire, debutante heiress Hope Harcourt (Zoe Rainey) is engaged to English aristocrat Lord Evelyn Oakleigh (Stephen Matthews), he stows away aboard the S.S. American to win her back. Aided by a string of eccentric passengers on board the luxurious transatlantic liner, can this web of love be untangled before they reach Southampton?
Also aboard is public enemy number 13 Moonface Martin, played by Shaun Williamson best known to millions of television viewers as Barry Evans in BBC1's EastEnders.
Shaun was cast brilliantly as the lovable gangster and had the audience in stitches with his witty one liners and comedy numbers.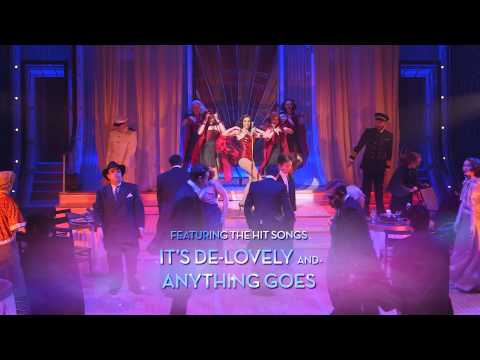 The star of the show was no doubt the incredible Debbie Kurup, who plays Reno Sweeney, who has an amazing voice and got to wear the most gorgeous costumes in the show. Debbie is no stranger to the stage and played Nicki Marron in he original cast of The Bodyguard Musical in the West End. She was a true joy to watch and I hope to see more of her in the future.
My favourite character in the show was Moonface Martin's partner in crime Erma, played by Alex Young, who sadly only had one number in the show. While it was fantastic, I would have liked to have seen more of her.
Another of my favourite characters was Lord Evelyn Oakleigh, played by Stephen Matthews, who is an eccentric wealthy Englishman who never failed to leave a smile on my face every time he was on stage with his brilliant comedy performances. His character is a witty commentary on how Americans may have perceived the British in the '30s.
The show has kept its delightful 1930s character and it was like being transported back 80 years, which left me feeling nostalgic.
I must also praise the show's set and lighting. While it was fairly simple compared to some sets I have seen, it was very effective and the lighting really added a magic touch to the show.
The choreography was also breathtaking, especially the spectacular tap dancing sequence to Anything Goes which ends Act I. It made me want to rush out and immediately learn tap dancing.
Overall, Anything Goes is a must-see magnificent musical that will entertain the whole family. If you are looking for a good night out then I thoroughly recommend going to see the de-lovely Anything Goes before it sails out of town.
Anything Goes it at the Wycombe Swan Theatre, in St Mary Street, High Wycombe, until Saturday (May 23) with performances at 7.30pm as well as a 2.30pm matinee on Thursday and Saturday.
Tickets cost £29 to £38.50.
To book, or for more information, call 01494 512 000 or visit www.wycombeswan.co.uk.