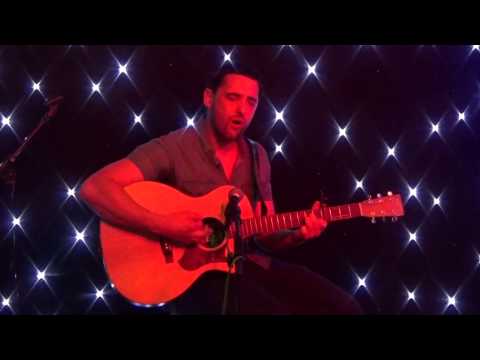 Singer and guitarist Tom Cary, amazed the crowd and won this year's Voice of South Bucks competition – by the narrowest of margins.
Tom, 27, from Penn Street, sang four songs, including the Bill Withers classic, Ain't No Sunshine, to win the contest, now in its fourth year, at The Red Lion in Knotty Green.
Hayley White, 22, from Chalfont St Peter was second, while last year's winner, Hannah Walters, 19, from Penn, came third in the competition on Saturday (April 25).
Celebrity judge, singer and actress Suzanne Shaw, said: "The talent on show was truly awesome and it was so difficult to decide.
"I'd go and see any of them in concert, they were amazing. Tom was fantastic and a worthy winner but he only just pipped Hayley to the title – it really was very close."
Tom was delighted with his win. He said: "This is just incredible – one of the best things that's ever happened to me.
"When I heard Hayley sing Nessun Dorma I thought she would win – she was really good, as were all the other contestants".
Tom received an array of prizes including £200 in cash and vouchers, a trophy provided by Shoebedo in Maxwell Road and a pair of designer sunglasses from Boots the Opticians in Gregories Road.
He also gets an all-expenses trip to sing at the prestigious La Fête de la Musique – a music festival held in Beaconsfield's twin town of Langres in France in June – as part of the Beaconsfield Twinning Association's (BTA) 20th anniversary celebrations.
BTA chairman, Phillip Sheahan, who was also one of the judges, said: "All the singers were incredible – especially the three who got through to the final round.
"They were so good that we're going to see if we can organise a special event in Beaconsfield so that other people in the town can enjoy these amazing young talents".
Tom also wins the opportunity to perform at this year's Pride of Bucks Awards ceremony at Stoke Park in Stoke Poges on June 29. Read more about the annual prestigious awards on pages 10 & 11.
The Voice of South Bucks raises money for local charities – paying for daytrips for Beaconsfield OAPs , for example.
Compere, Chris Owen, said: "This year's singers were just incredible.
"It was a wonderful night and I'm delighted that we again raised more than £100 for local charity".
Landlady Tina Massie, who organises the competition, said: "I am just glad I wasn't one of the judges.
"The singers were all wonderful – you would happily pay to go to seem them.
"It must have been extremely difficult for the judges to decide the winner".
Visit www.getbucks.co.uk to see a video of winner Tom Cary singing Ain't No Sunshine.
You can see more video from the Grand Final at myredlionTV.