Thames Valley Police's chief constable has apologised to victims of sexual exploitation and admitted it "took too long to bring the offenders to justice" following a review into the Force.
In May 2011, Thames Valley Police and Oxfordshire County Council launched Operation Bullfinch, a joint investigation into suspected serious sexual offences against children within Oxfordshire.
Two years later, seven men were convicted at the Old Bailey of 59 counts of offences including rape, trafficking and arranging or facilitating prostitution.
They were sentenced to a total of 95 years' imprisonment for offences against six girls between 2004 and 2011.
Since then, more men have been convicted of offences relating to Operation Bullfinch and a dedicated team of 20 detectives continues to investigate potential victims and suspects of Child Sexual Exploitation in Oxfordshire.
Today, the findings of an independent Serious Case Review into Child Sexual Exploitation in the county were released. It found that although many positive changes have been made by Thames Valley Police since Operation Bullfinch, the exploitation could have been identified earlier and that errors were made.
Following today's review, Chief Constable Sara Thornton said:
"We have contributed fully to the review and accept its findings.
"The independent review highlighted that agencies including Thames Valley Police could have identified the exploitation between 2004 and 2010 earlier than it did and many errors were made.
"The review acknowledges that we have been willing to learn and change.
"We have examined what went wrong and we are doing all that we can to put things right."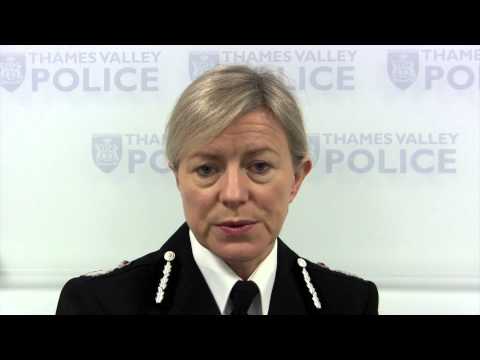 Apology
"After the 2013 trial, I personally apologised to the victims and their families for not identifying the systematic nature of the abuse sooner, that we were too reliant on victims supporting criminal proceedings and that it took too long to bring the offenders to justice.
"I want to reiterate that apology today."
Chief constable Thorton said the force has made "significant progress" in the way it prevents, identifies and investigates Child Sexual Exploitation.
Her Majesty's Inspectorate of Constabulary inspections have recognised the force's track record in addressing 'hidden crimes'.
Dedicated units
Since the 2011 financial year, the Force has invested £3.5m in tackling exploitation.
It has also dedicated a Major Crime Team, who have traditionally investigated murders, to focus on Child Sexual Exploitation investigations.
She added: "In Oxfordshire, we have a dedicated unit, the Kingfisher team, where police officers, social workers and health and education professionals sit side by side in order to safeguard children from Child Sexual Exploitation.
"There has been a huge emphasis on training frontline officers and staff in order for us to better prevent, identify, disrupt and investigate Child Sexual Exploitation. All frontline officers and staff, including PCSOs, constables and sergeants, have been attending mandatory training since 2013."
Victims
The police are also working with one of the six victims to help training.
"She talks about her experiences with the police in order for us to learn from mistakes made prior to 2011," said Chief constable Thorton.
Since the 2013 trial at the Old Bailey, the force has charged 47 offenders in connection with 201 Child Sexual Exploitation offences.
She added: "We are ashamed of the shortcomings identified in this report and we are determined to do all we can to ensure that nothing like this ever happens again.
"Safeguarding and protecting vulnerable children and robustly and vigorously investigating those who prey on them, is the responsibility of every officer and member of staff in Thames Valley Police."
The victim, who was known as Girl 1 during the trial at the Old Bailey, said: "I have been working with the police to deliver training sessions on CSE and sharing my experiences.
"I feel young people are finally being seen as victims and not simply nuisances who make 'bad life choices'.
"I had a newly promoted sergeant apologise to me for all the young people they felt they had let down in the past and that was very touching.
"I feel that Thames Valley Police has failed me so terribly in the past. However, they have apologised for this and not made excuses about it."
If you think you have been a victim of sexual abuse, or are worried about someone, please phone 101, quoting URN 165 18/2/15. For further information and advice on CSEclick here