If you do not believe that level crossings are dangerous junctions, then watch this video.
In it you will see motorists take their lives in their hands as they attempt to accelerate past descending barriers, or recklessly weave through closed gates on the wrong side of the road.
In many cases, there are only seconds to spare before the oncoming train arrives.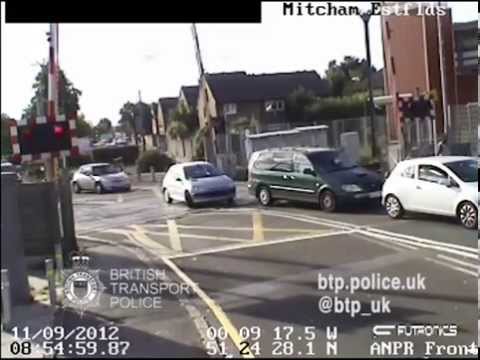 This week, British Transport Police (BTP) officers will be carrying out additional high-visibility patrols at a number of level crossings to drive home a hard-hitting awareness campaign.
'Operation Look' will see BTP joined by Network Rail in an awareness campaign - which is backed by motoring organisations, the RAC and the AA.
Inspector Becky Warren said: "All too often people get into the habit of taking risks at crossings and our message is simple. Use crossings safely.
"It may be tempting to jump a light to shave a minute or two off your journey, but every time you do, you endanger your life and the lives of other road and rail users. Fail to obey the signals and you may also end up with a driving ban or a criminal record. Is it really worth the risk?"
Network Rail's Level Crossing Champion Tina Hughes said: "Having lost my 14-year-old daughter, Olivia, with her friend on a level crossing in 2005, I am delighted to see this nationwide week of action."
"It brings BTP and Network Rail together to emphasise the importance of education and enforcement to help and encourage people to behave safely at level crossings."
Edmund King, AA President, said: "There is absolutely no reason why a driver should ignore a level crossing signal; to do so is to gamble with their own lives and the lives of others."
RAC spokesman Simon Williams said: "Too many lives are still being lost as a result of incidents at level crossings
"The more that can be done to raise awareness among motorists, pedestrians and cyclists not to take risks at level crossings, the better it will be for everyone."