School lunches are seldom something to sing home about, but for pupils and teachers at a Bucks primary school a simple plate of pasta took on operatic proportions as they were treated to an impromptu performance.
Four secret opera singers, disguised as dinner ladies, canteen staff and a policeman broke into song at the Great Missenden CofE School, in Church Street, bringing the lunch hall to a standstill with a rousing medley of the Italian classics by Verdi, Rossini and Puccini.
The performance was orchestrated by Italian food brand Sacla', which brought the spirit of Italy and the passion of the opera to the lunch hall.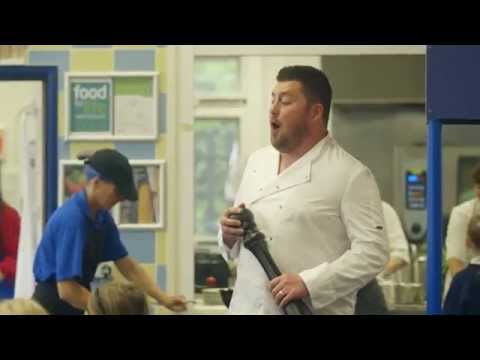 As the children tucked into a linguine and pesto lunch the disguised opera singers, dressed as canteen staff, burst into song, building slowly at first and ending on a rousing group rendition of Nessun Dorma. The children gasped as a policeman intervened midway through the performance. But instead of making an arrest he turned out to be part of the operatic cast.
Sacla' went to great lengths to ensure the scenario played out as a completely random event. Not only were the cameras and crew well hidden, while the school management were in on the stunt the real teaching staff had not been told what was happening and were as surprised as everybody else when the first singer burst into song.
Headteacher Rozalyn Thomson said: "Mamma Mia! What an experience for the children! They loved the singing, they loved the surprise and they loved the pesto pasta! Next best thing to Covent Garden – they all want to be opera singers now!"
Opera singer Gareth Daffyd Morris, who was dressed as a canteen staff member, said: "Having performed across the world, one gets used to performing in front of thousands in concert halls and theatres, as well as on live TV, but having the interaction with the children and seeing their sheer delight is a first for me."
MD of Sacla' UK Clare Blampied said: "We wanted to share the power of opera with children who have never seen or heard it before live and their reactions were incredible as our undercover opera singers gave them an Italian dining experience to remember."
For a video of the performance visit www.getbucks.co.uk.